OK, so I'm more than a little behind. As many of you know firsthand, when you're a stay-at-home-mom the "vacation" part of Christmas vacation is pretty much non-existant. We spend a lot of time baking, shopping, wrapping, cooking, cleaning, driving, and kid-occupying. Not that that's not enjoyable (at least to a point), but it leaves little time for some of the other fun stuff a lot of us would rather be doing. I managed one project over break, and I'm just now getting around to sharing it....because I am, after all, a world-class slacker.
I started out with a massive wooden frame that I got a couple of years ago at a garage sale for $3. I completely disregarded the warnings on the spray paint and went out to the garage on a less-than-50° day to hit it with a coat or 2 of silver.
Once it was dry, I used the handy dandy staple gun to attach a rope to the back of the frame - zig-zagging back and forth in a big "z" pattern.
Then I stuck the sucker on the wall, using clothespins to attach the cards to the rope. Ta-Da!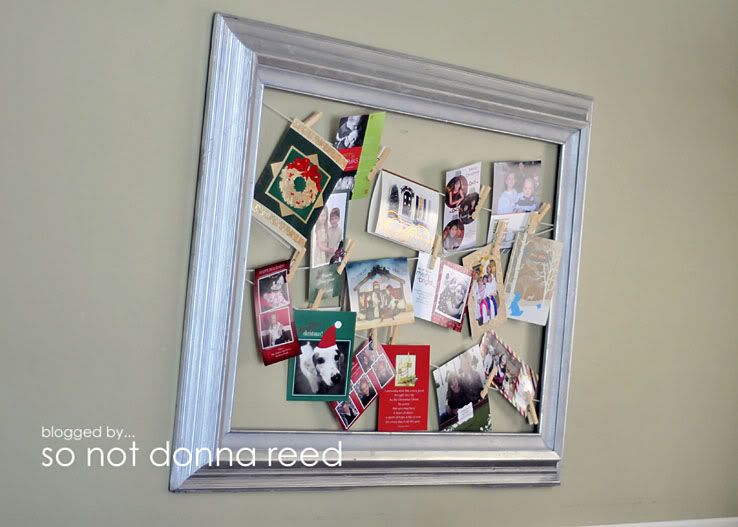 By the time Christmas actually rolled around I was running out of room in the frame, so I'm thinking I'll have to attach another line or 2 of rope onto the back before next year. I'm also toying with the idea of putting this frame up in my craftroom to hold art projects from the tiny people, thus keeping my fancy magnet board clear for other things.
Christmas here was phenominal - filled with a lot of fun and some wonderful family time that just plain doesn't happen often enough. We're looking forward to a New Year filled with (hopefully) only good things - and I wish the same for you!